15/09/2017
MBI Al Jaber Foundation Supports Yemen Exhibition Lecture: 'Monuments of Faith and Power: Yemen's Religious Architecture' by Noha Sadek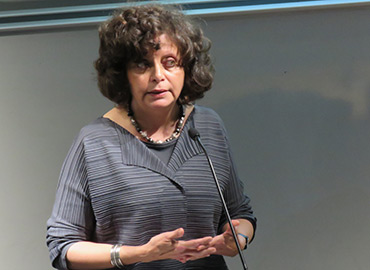 Noha Sadek, Historian of Islamic art
"Monuments of Faith and Power: Yemen's Religious Architecture" was presented by independent scholar Noha Sadek at the Khalili Lecture Theatre, SOAS, University of London on Friday 15th September 2017. The lecture focused on Yemen's marvellous architectural heritage, which is now seriously at risk. Excavations aimed at unveiling Yemen's unique artistic and historical patrimony began in the 1980s and brought to light evidence of its long-lost, pre-Islamic past. As a matter of fact, traces of pre-Islamic civilisations, explained Professor Sadek, were found mostly in the methods of construction. Moreover, she reminded us that we should not forget that Yemeni history dates back to the mythical Queen of Sheba, mentioned in the Bible as a contemporary of King Solomon (10th century BC). The Ethiopian invasion (525 AD) caused Yemen to be regarded for a long time as a homeland to Christianity before the spread of Islam. Pre-Islamic "spolia", or ruins, were not lost since they were reused for later buildings and this is the reason why, Noha Sadek stated, Yemen happens to possess the richest monuments in the Peninsula.
Professor Sadek, by showing the audience some astonishingly beautiful photographs, brought the richness of those monuments and mosques to our attention. Many of these are still being used on a daily basis and maintain their status as places of worship of utmost relevance for the people. These treasures are threatened by a war that is tearing apart both the country's people and its irreplaceable heritage. Noha Sadek also underlined how the impressive craftsmanship demonstrated in the photos cannot be replicated since the skills used to build the monuments were not passed on through the generations.

A reception sponsored by Gingko followed the lecture.

"Monuments of Faith and Power: Yemen's Religious Architecture" is part of a programme of lectures accompanying the exhibition "Buildings That Fill My Eye: the architectural heritage of Yemen" at the Brunei Gallery. The next lecture, "Views of Aden", sponsored by Gingko, will be held on 22nd September at the Khalili Lecture Theatre, SOAS, and will be presented by Dr St John Simpson, senior curator responsible for the pre-Islamic collections from Iran and Arabia at the British Museum.


---
For further information, please contact:
Director of Public Relations
[email protected]