10/10/2016
MBI Al Jaber Foundation and Caabu Co-host Parliamentary Briefing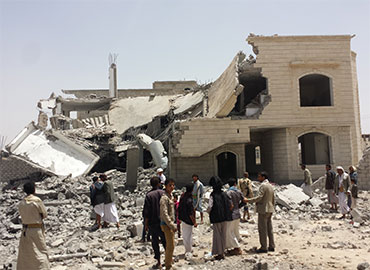 Air-strike on Sana'a in 2015
The MBI Al Jaber Foundation and CAABU jointly hosted a Parliamentary Briefing, 'Two Eyewitness Accounts of Catastrophe in Yemen', at Portcullis House on Monday 10th October. The briefing, chaired by Paula Sheriff MP, included panellists Nawal Al-Maghafi and Peter Oborne, two journalists who have recently returned from war-torn Yemen. Peter Oborne was named Freelancer of the Year in 2016 by Online Media Awards for an article he wrote for Middle East Eye and was British Press Awards Columnist of the Year in 2013. He resigned as chief political columnist of the Daily Telegraph in 2015. Nawal Al-Maghafi directed the recent film 'Starving Yemen', and was one of the first journalists to enter Sadah, gaining an exclusive interview with a key member of the Houthi movement. She has produced a BBC World film on Ali Abdullah Saleh and his family, interviewing the former President and his close associates. She is a frequent writer for Middle East Eye amongst other publications.
The event was well-attended and both journalists gave in-depth, harrowing details of what life in Yemen is, and has been like, since the war began. Peter Oborne talked about the problems both he and Nawal experienced when entering the country. He said that it is very difficult to get into Yemen but even more difficult to leave. Peter reported on the appalling destruction he witnessed first-hand and the experiences that Yemenis are facing on a daily basis – experiences that we would find difficult to comprehend. He indicated that the West has much to answer for in this on-going conflict.

The maiming and killing of children by cluster bombs – even during ceasefires – was brought to our attention by Nawal Al-Maghafi. She described how malnourishment was widespread in Hodeidah even before the war but is much worse now. She was prepared for bomb damage and destruction on her return to Yemen but not for seeing people starving to death. Blockades and bombing have prevented food and medicines from entering the country and reaching towns and remote villages, even though ships are docked at Yemen's ports. The constant bombing has destroyed cranes at the docksides, so there is no facility for unloading cargo. In addition to this, there is no electricity or drinking water.

Since the three rounds of peace talks that have taken place since bombing began in 2015, there has been little progress. This, and evidence of armaments from the West, has fuelled the resentment felt by Yemenis. When asked by Keith Vaz, Labour MP and Chair of the APPG for Yemen, about a way forward to stopping the conflict and moving towards negotiations for peace, both Nawal and Peter recommended that the UK government push for an independent enquiry into war crimes and atrocities carried out by both sides in the conflict, and that arms sales should be halted immediately. Yemen is in desperate need of help. We must act now before it really is too late.


---
For further information, please contact:
Director Public Relations
[email protected]